The website is just a little over a year old, I thought that I'd give an update.
As I write this, the site has:
28 published posts
containing 35,000 words
and 400 images
I was actually beating myself up for not having done more this year, but after seeing the tally of the work – the words alone if printed out would fit on about 70 A4 pages, or fill 3 University dissertations, or make a nice sized textbook – I felt a little more relieved. Especially as everything had been worked on in my spare time.
In addition there are 9 drafted posts, some of them 80% complete.
I estimate that the last big article I wrote, which was about Watch Batteries, took me over 20 hours to complete. This is because when researching (particularly a subject I know very little about to begin with), most of the details already published are horrifically over-complicated, and there is an enormous amount of discrepancy between sources. As an example I spent 2 hours just clarifying one point after a source had made an error; so I had to find 6 separate sources that contradicted that error making sure that none corroborated it in any way, before I could move on.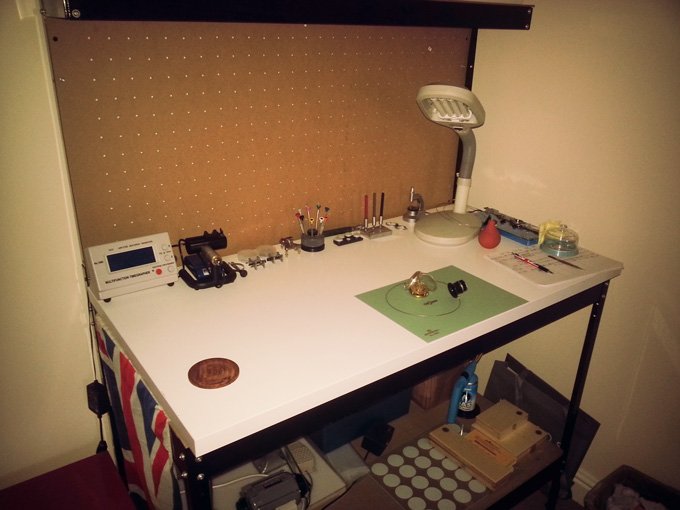 With regards to my watch that I am making myself, there has been progress. Mostly in that I have purchased everything I need. Beyond that however there is not going to be much happening until my final year exams are finished this year in June. A shame, but I need to manage my priorities.
I visited the Salon QP in November this year, and again it was excellent. I highly recommend going to anyone with even a passing interest in watches. It's very inspiring, particularly as you get the chance to chat to some of the superstars in the industry; who without exception are incredibly down to earth and enthusiastic. Oh, and you get to try on some fantastic watches too if you ask nicely.
As for the site itself, it's gone from about 50 unique visitors in December 2012 to around 2,500 last December. Which for such a niche subject is considerably more than I expected (or perhaps deserve). But it is encouraging to see that there is such an interest in the matter, in particular British Watchmaking, which most of the search terms make some reference to.
My aim for the first part of 2014 is to finish my BHI exams and hopefully earn my MBHI title, and then I can start working towards completing the additional modules to get the upgraded Diploma in the Repair, Restoration and Conservation of Watches. I'll also aim to publish one article a month, although I may have to excuse myself around exam time.
It has been a funny year really, and not one that has ended at all how it started; with pretty much everything that was set in stone last year having changed. For some reason I have also accumulated champagne; I won one bottle, was given another for Christmas and got another for free. So my last decision of 2013 is…