A watchmaker's work is often left unappreciated as it is hidden inside the case. The fact that the watch is keeping time and functioning as it should are the only outside indicators of a well serviced watch. When studying to become a watchmaker we were often told the mantra that "you can't see a good watchmaker's work"; meaning that the work should be so clean and precise that there's no evidence of any intervention. So being able to polish a watch case and bracelet and restore the watch so that it has the finish, shape and function as when new is something that the customer can immediately appreciate. It is also what I find to be one of the most satisfying parts of being a watchmaker.
If you are interested in having me refurbish your watch for you, please get in touch via the contact form.
Watch polishing is a full-time job at most large repair centres, and specialised people will do nothing but refurbish cases and bracelets all day.
Watch bracelet and case polishing can also be referred to as refurbishing, refinishing and valeting.
Please note this article is describing commercial polishing and so no more than one or two hours is taken on any watch. Better finishes, in particular a higher mirror finish, come from using additional grades of polishing compound to achieve a more graduated removal of scratches. But if you are working in a busy service centre then the overall time spent polishing offers diminishing returns and so it is generally not financially reasonable to go beyond what is demonstrated below.
Saying that, for most of my own polishing work I tend to go the extra mile and achieve as high a mirror finish as possible. For this I use compounds and mops that have been imported from Switzerland, and include using parachute silk as a final buffing wheel.
---
How to Clean a Watch
Whether you are cleaning a stainless steel watch, a gold watch or a plated watch the techniques are the same.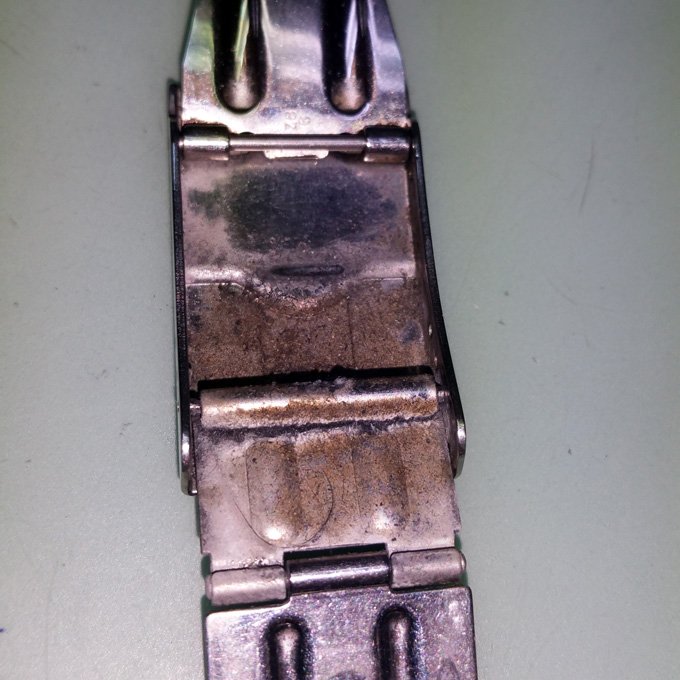 If possible you should always try and remove the bracelet from the head of the watch. It is usually held in with two springbars or pins. The bracelet can then be cleaned with a hard bristle brush and washing-up liquid and water. This will clean up most of the surface dirt, however you will not be able to clean up the dirt that is deep between the links as well as any surface oxidisation. To do that we will need to use an ultrasonic tank.
For the initial clean you will not need to fill the tank with anything other than water with a little washing-up liquid. However for really dirty items, or for the final clean I would recommend a professional cleaning fluid designed for ultrasonic tanks.
When cleaning the watch head, if the watch movement is de-cased then follow the same procedure as the bracelet. In some cases when a watch is incredibly dirty or has something such as blood on it, then I will pressure test the watch; and if it passes then place it into the ultrasonic tank for 30 seconds to clean off the worst of the dirt.
If you're lucky then you will have access to a steam cleaner. This will allow you to get the dirtiest of bracelets both clean and sanitised in just a couple of minutes. It is the best option for removing polishing compound too.
---
Types of Finish on a Watch Case and Bracelet
There are two main finishes that a watchmaker will want to achieve:
The first is highly polished, or a mirror finish; basically trying to make the metal as reflective and smooth as possible.
The second is a grained or brushed finish, which is where there are deliberate scratches made in the metal in one direction.
The example above shows a mirror finish on the centre links and a brushed finish on the side links and safety clasp.
There is also a sand blasted finish, but I will not be covering that here. This is a finish that is done by firing sand at a high speed through a nozzle in an enclosed area. It creates a mottled effect, with the technique to achieve it similar to airbrushing with paint.
Types of Metal Used in Watch Bracelets and Cases
Steel: When polishing cases and bracelets most of the refurbishment will be done on steel, specifically stainless-steel. This is because it is relatively cheap to manufacture and very commonly used. It is hard wearing and can give a number of satisfying finishes
Gold: This is a very soft metal that is very easily polished to a mirror finish. With gold, the watchmaker will try to remove as little material as possible in order not to devalue the piece, and so heavily scratched gold generally cannot be restored completely. Most watches are either 9ct or 18ct gold
Titanium: Some watches use titanium, which is a very light and tough metal that you cannot bring to a high polish without a lot of effort. As it does not mark easily most work is generally just a case of refinishing the original effect – which is most commonly brushed
Platinum: Only used on the highest end watches, particularly Patek Philippe. Platinum is harder than gold, but the same polishing techniques apply. You shouldn't use an abrasive compound on platinum as you will devalue the piece
---
Tools and Materials used in Polishing Watches
All case and bracelet polishing is done on a lathe, unless otherwise mentioned. This should be a purpose built polishing lathe with air extraction and decent lighting.
Always wear safety goggles. Some people would recommend wearing latex gloves to help avoid staining your hands with polishing compound.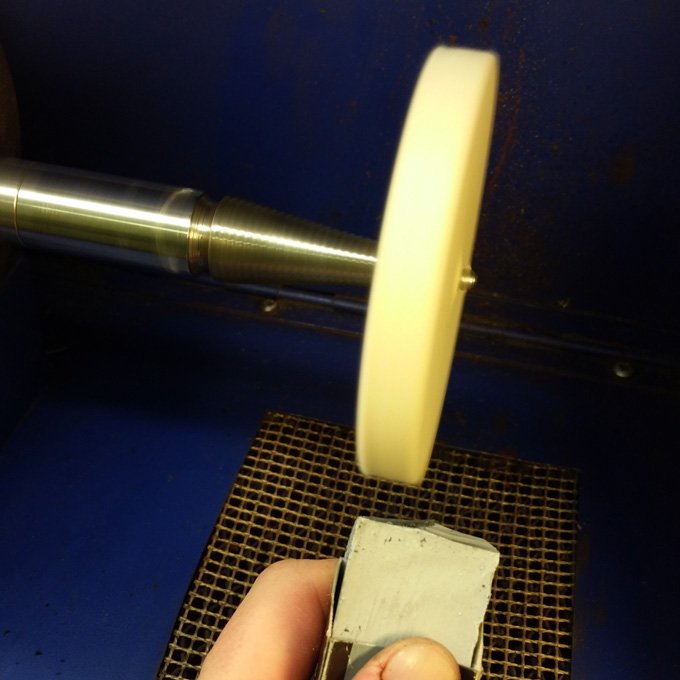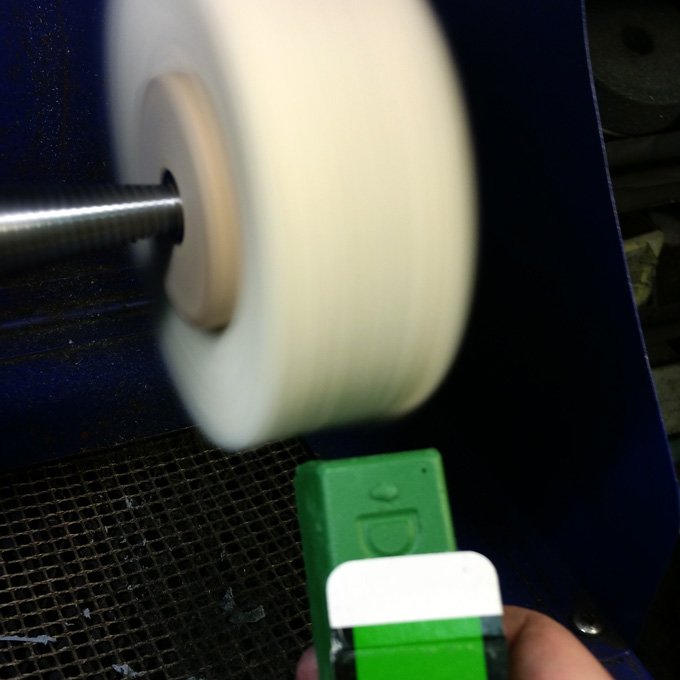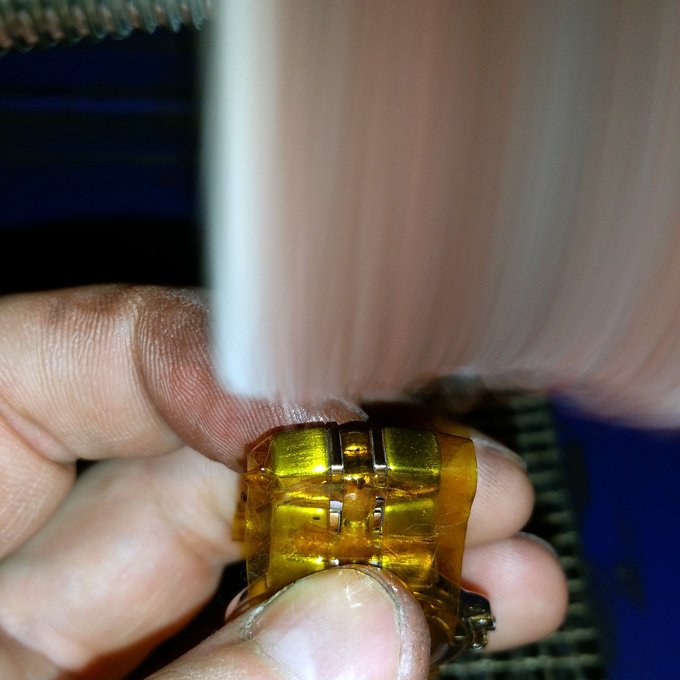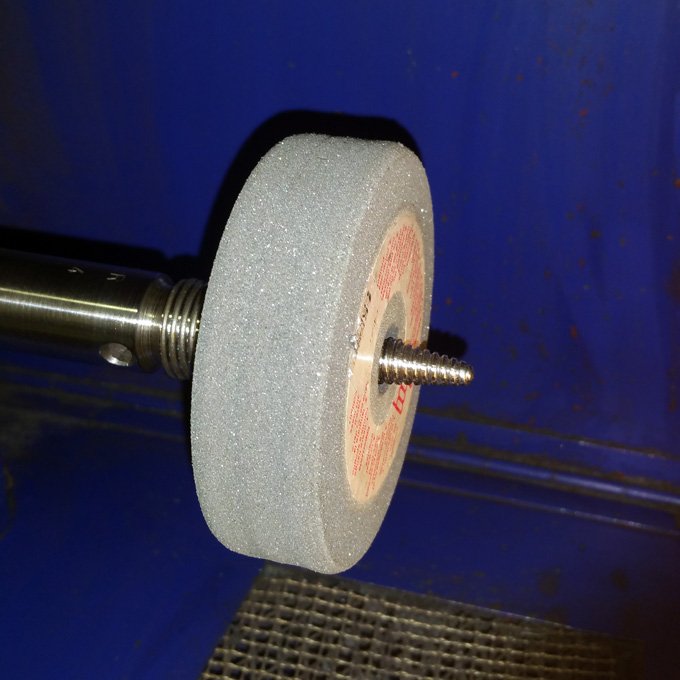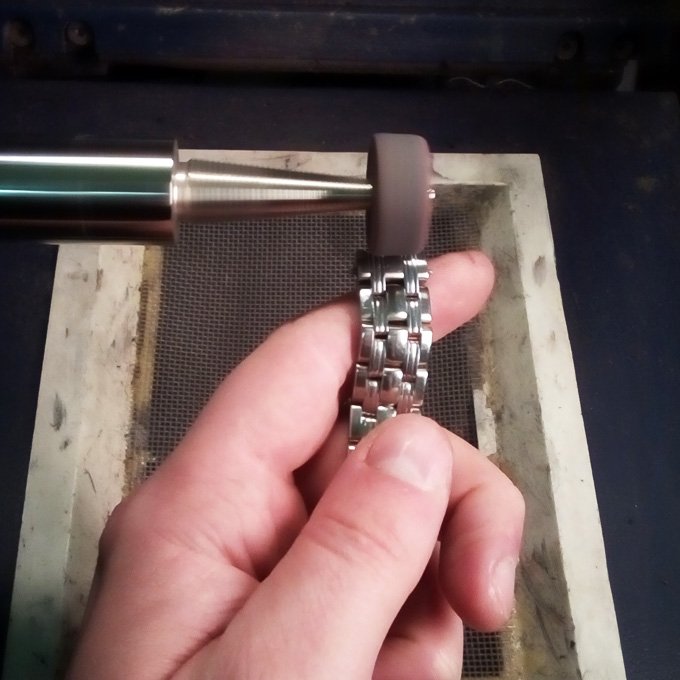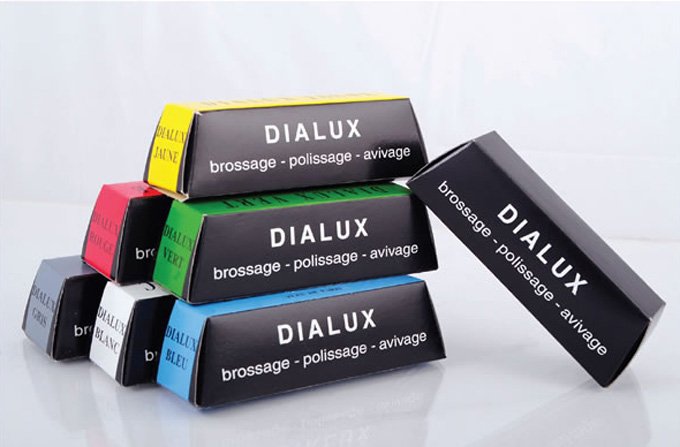 For steel I use blue to polish and green to finish. For gold I use their red block.
If you are wanting a super-fine finish then you can use their white compound, which is what you can also use to polish acrylic glasses and finish gold.
For the highest-end of mirror finish, the black compound together with a Swansdown mop will get superb results, although this level is generally unnecessary.
Different brands have a different colour scheme, but for Dialux;
Steel
Grey to cut
Blue to polish
Green to finish
Gold and platinum
Red to polish
White to finish
Acrylic
---
BASIC TIPS FOR POLISHING A WATCH BRACELET
Gold plating or folded gold should never be polished. At best the layer is only a few microns thick and will wear off very quickly
Never cross-contaminate mops i.e. never polish with green then go straight to blue without cleaning the previous compound off. You want each mop to be as pure as possible. I store each mop in a bag after use to stop it from becoming contaminated
For when you have a two-tone or two-finish then you should start with the polished and/or softest areas first. So if you have gold and steel, you will start with the gold, if you have a brushed and polished finish you will start on the polished part. Once that part is finished you then tape over the finished area so that you can work on the other area without damaging your previous work
When polishing gold, less is always more. Gold is so soft that you will remove a lot of material fast if you are not careful. I use the red compound, which is Iron Oxide, on a cotton mop and go over each area for a few seconds only. I will never polish the edge of a case-back or inside edge of a case; as you can very easily change the shape so that the watch case will not fit together any longer. To get a brushed finish on gold I will use a Garryflex block and do it by hand by pushing the gold in one direction on the block; you should never mechanically grain gold
---
HOW TO POLISH AN ALTERNATE FINISH BRACELET; TAG HEUER LINK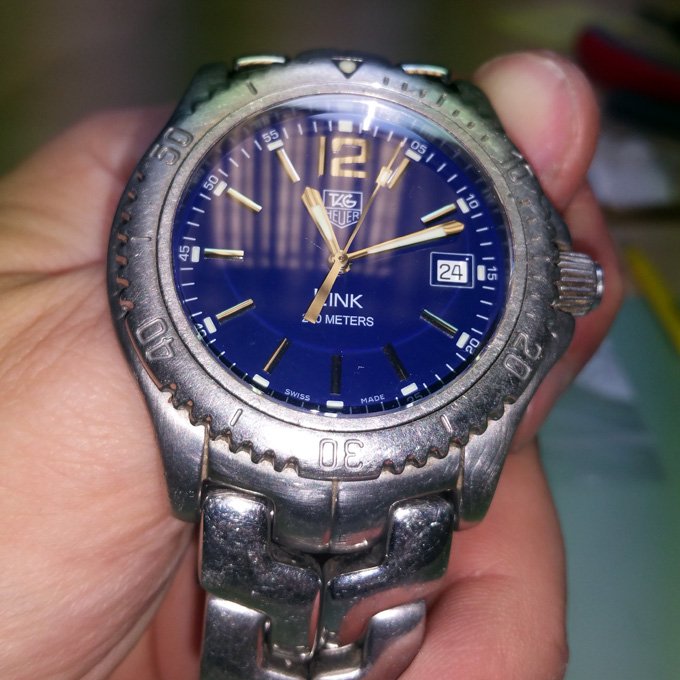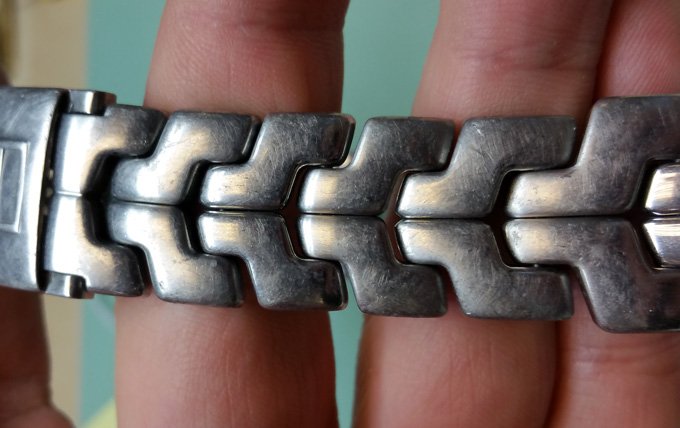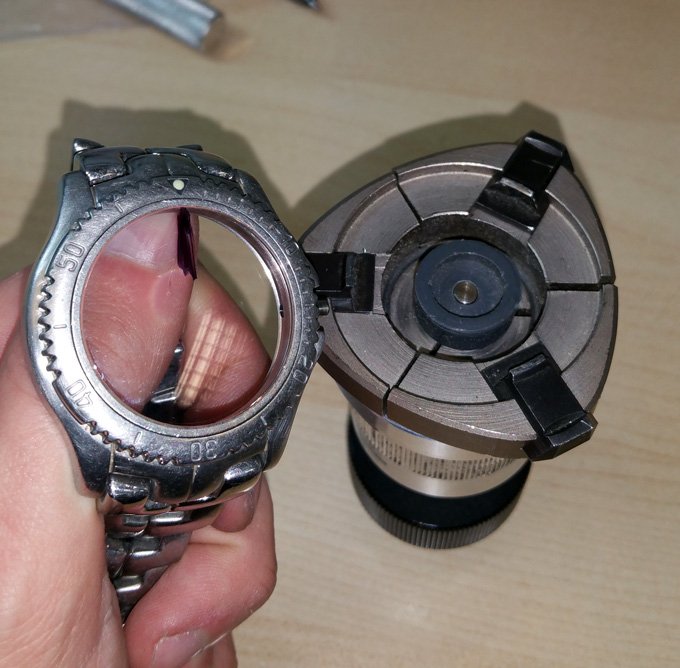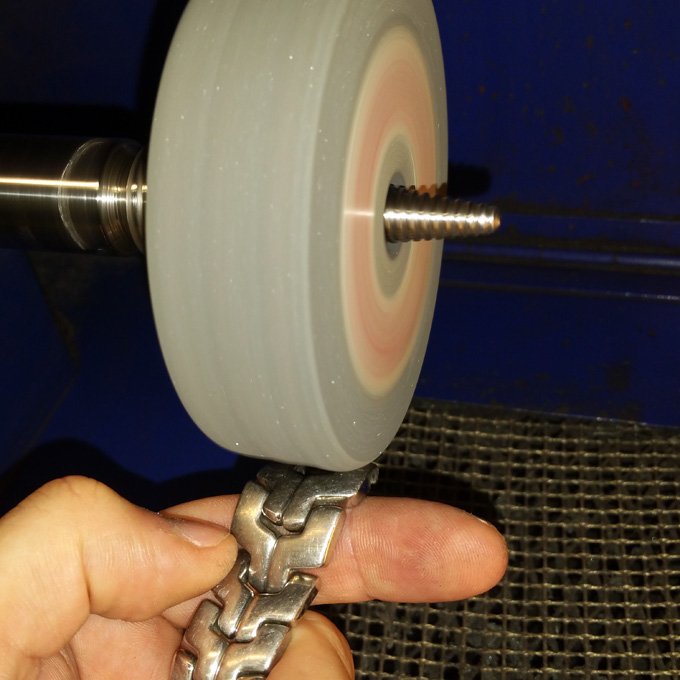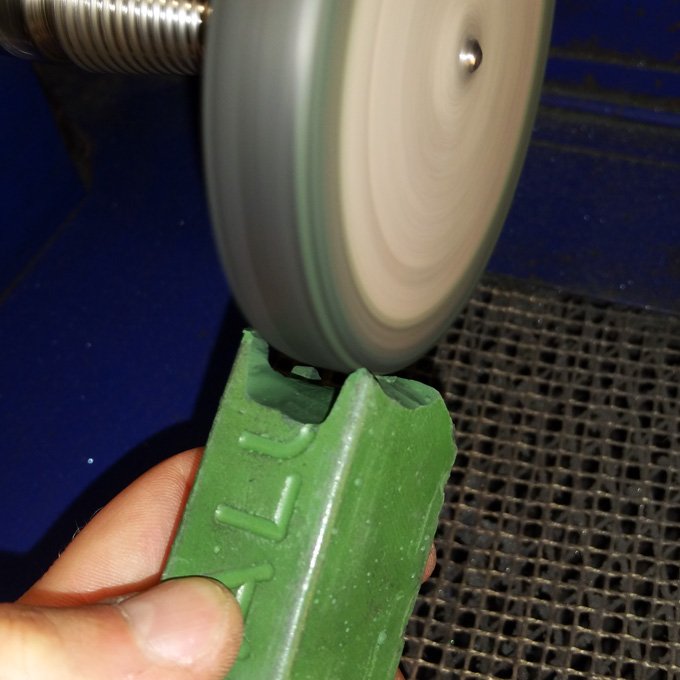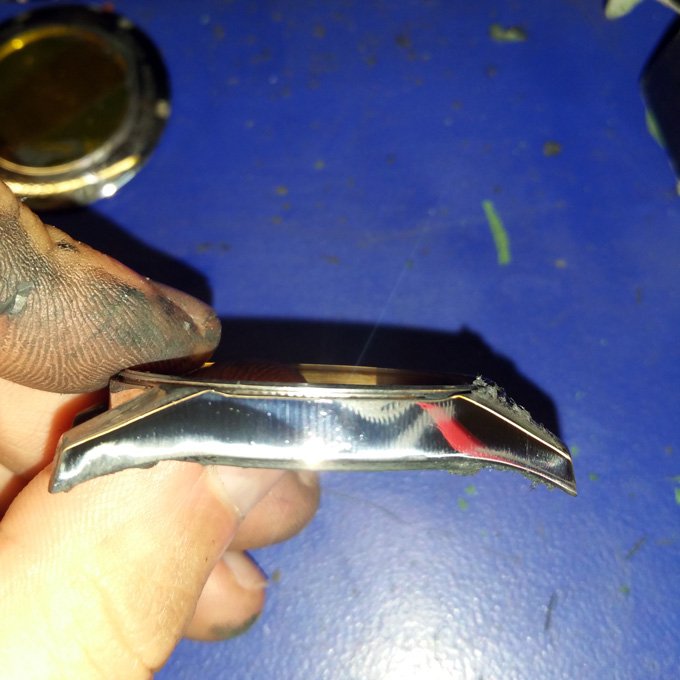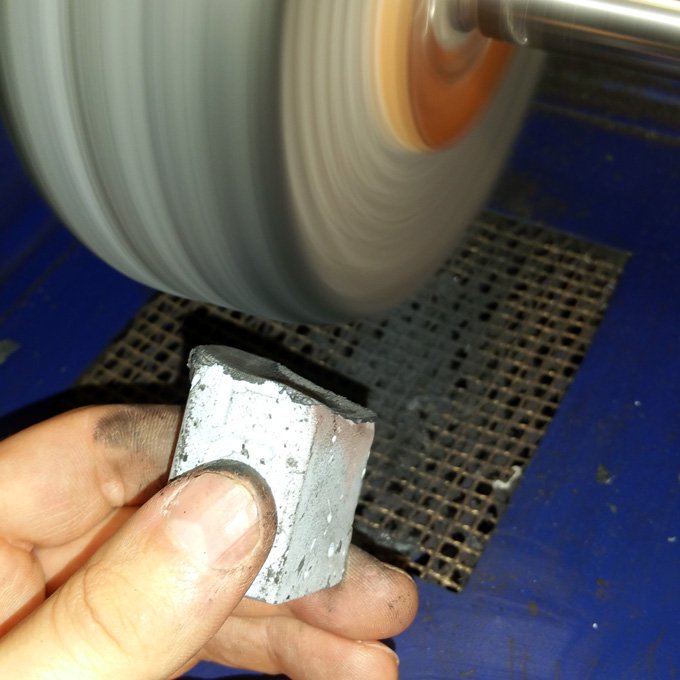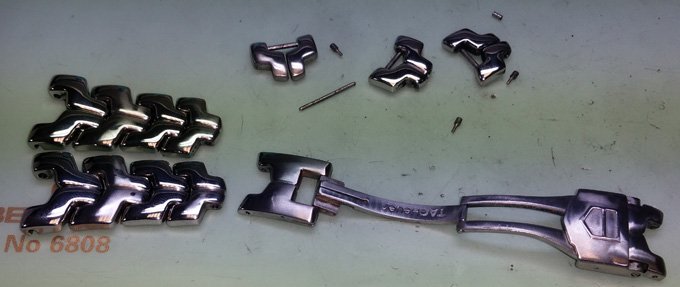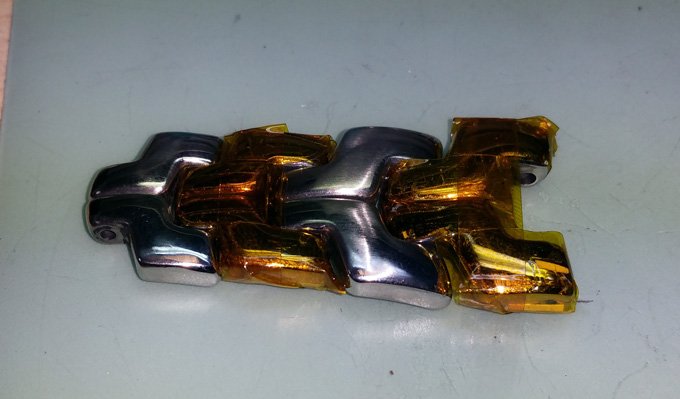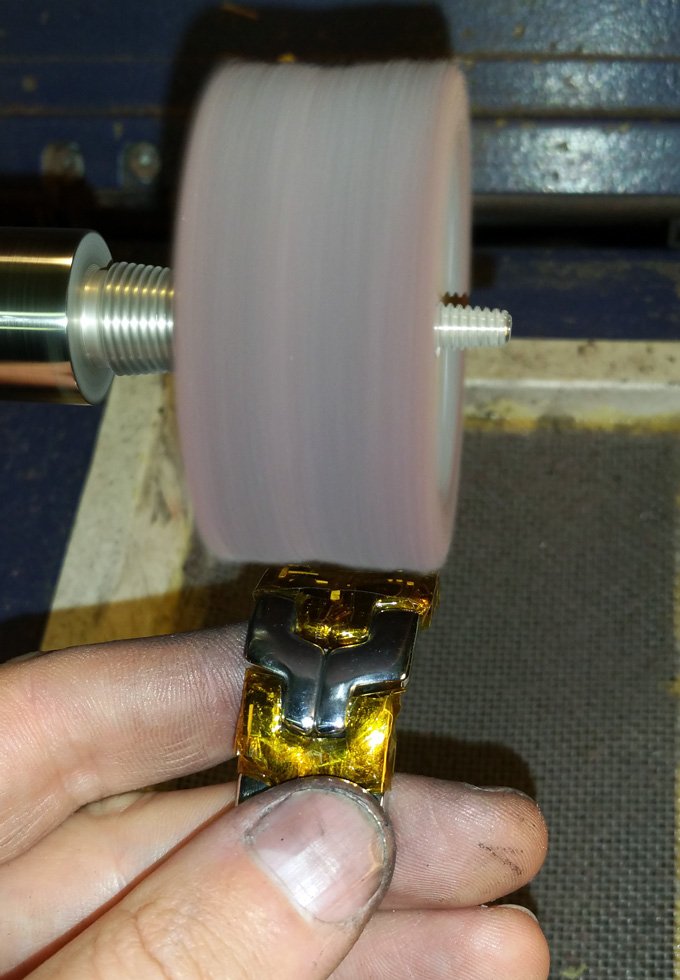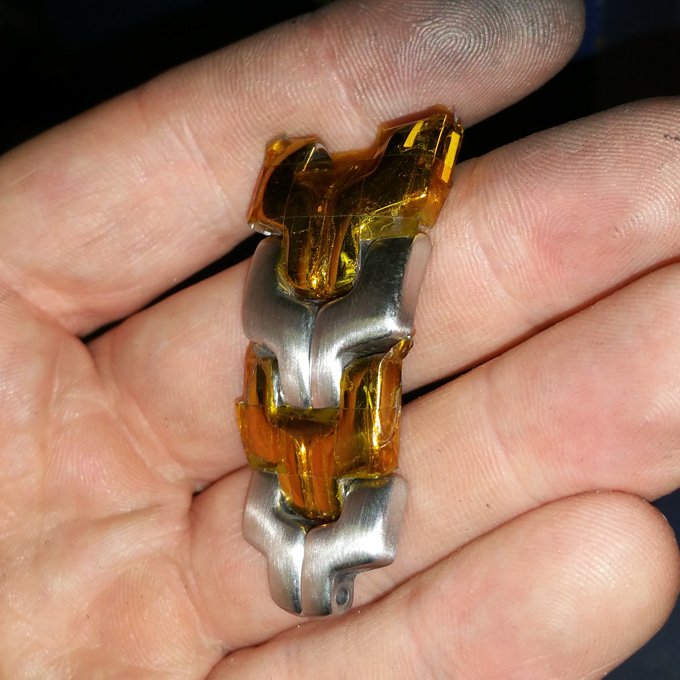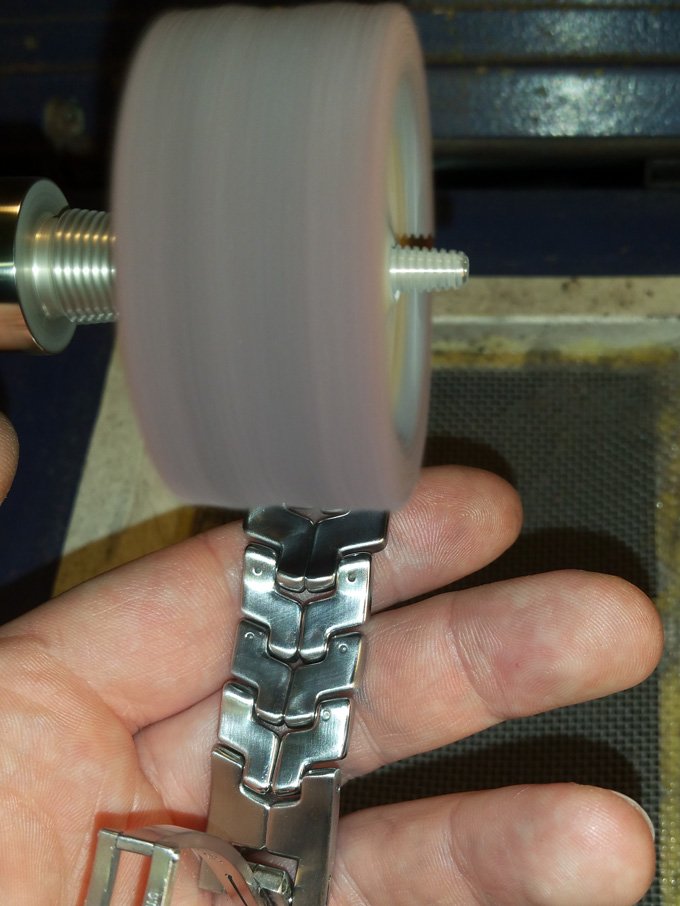 _____________________________
HOW TO REPAINT A BEZEL
When refurbishing a watch, special attention should be paid to the detailing on the bezel. The bezel is at the front of the watch and borders the dial, and so is very prominent for the customer. Often if a watch is worn then the numbering and/or lettering on the bezel and case can become worn. After the bezel has been polished, you can re-paint the numbering in the recesses.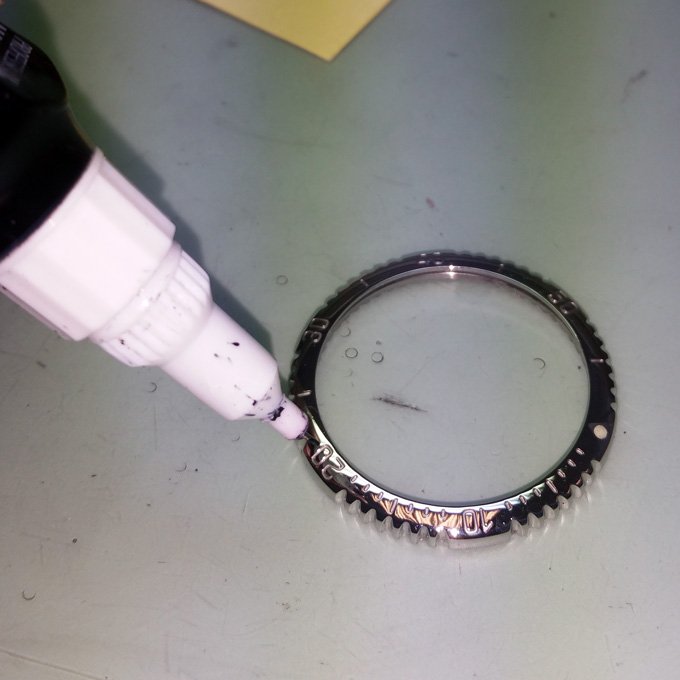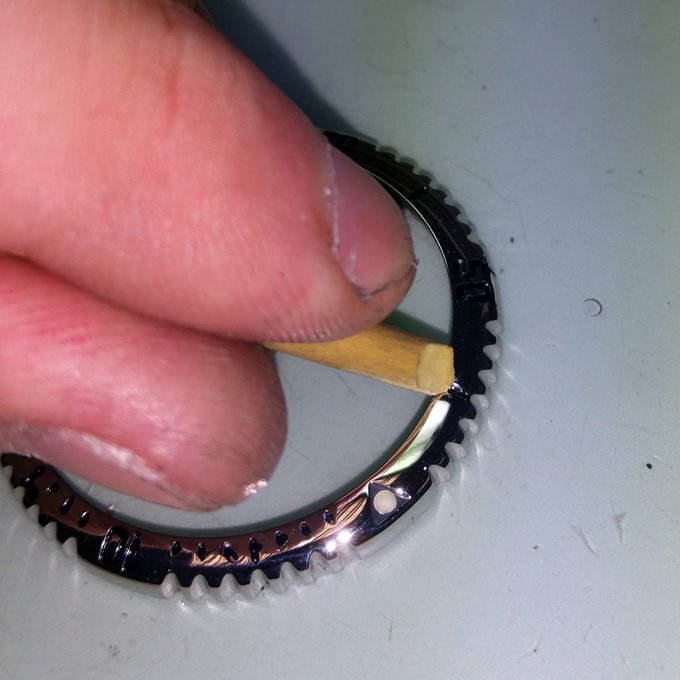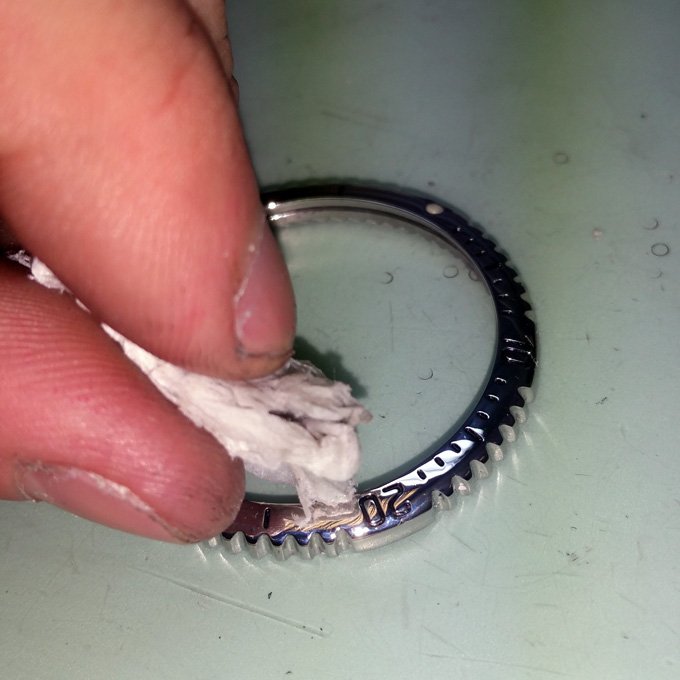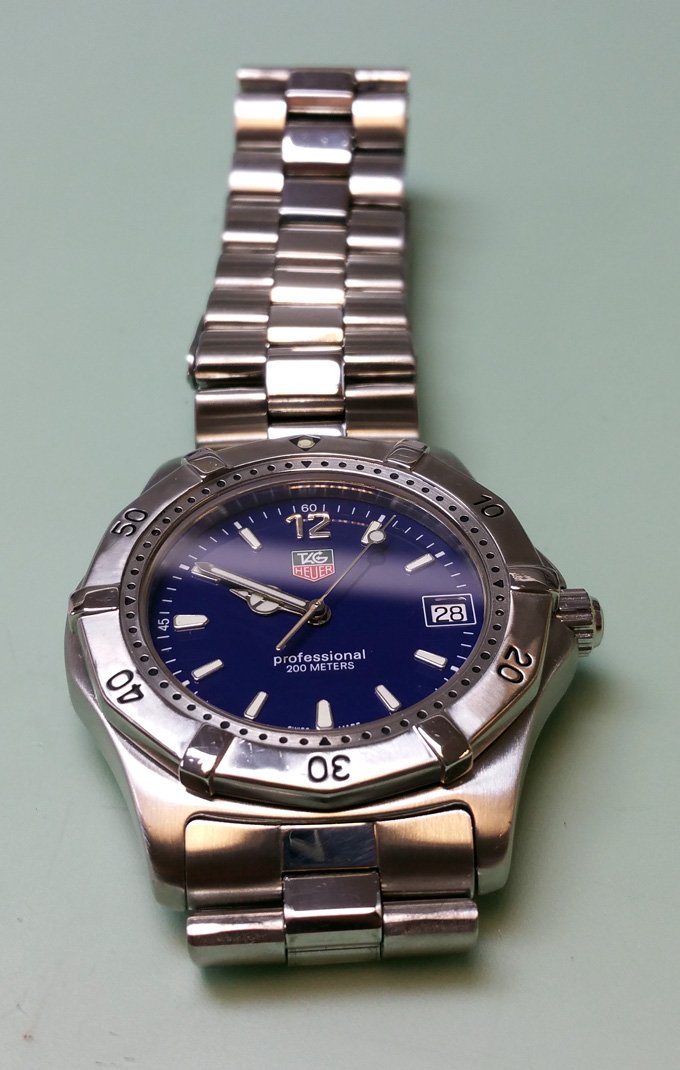 ---
HOW TO POLISH A TWO-FINISH BRACELET; OMEGA SEAMASTER
The bracelet of the Omega Seamaster has two finishes. Moving from the outside inwards the finish is; grained, polished, grained, polished, grained, polished, grained, polished, grained.
The polished parts are quite small and so are difficult to isolate, and so this bracelet is good practice for getting comfortable with using the protective tape. As with the Tag Heuer Link example above, the same techniques apply to a two-tone bracelet e.g. a bracelet that uses both gold and steel.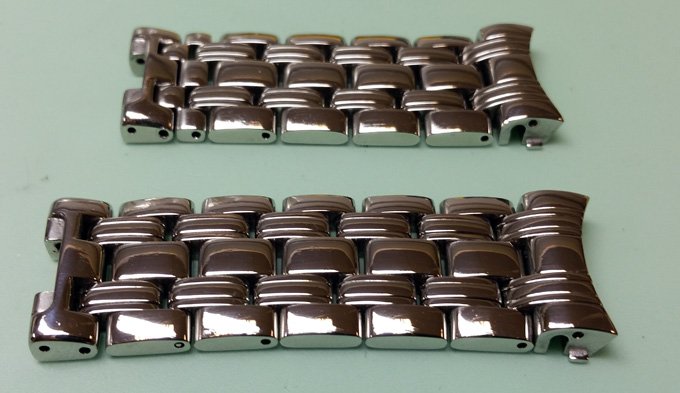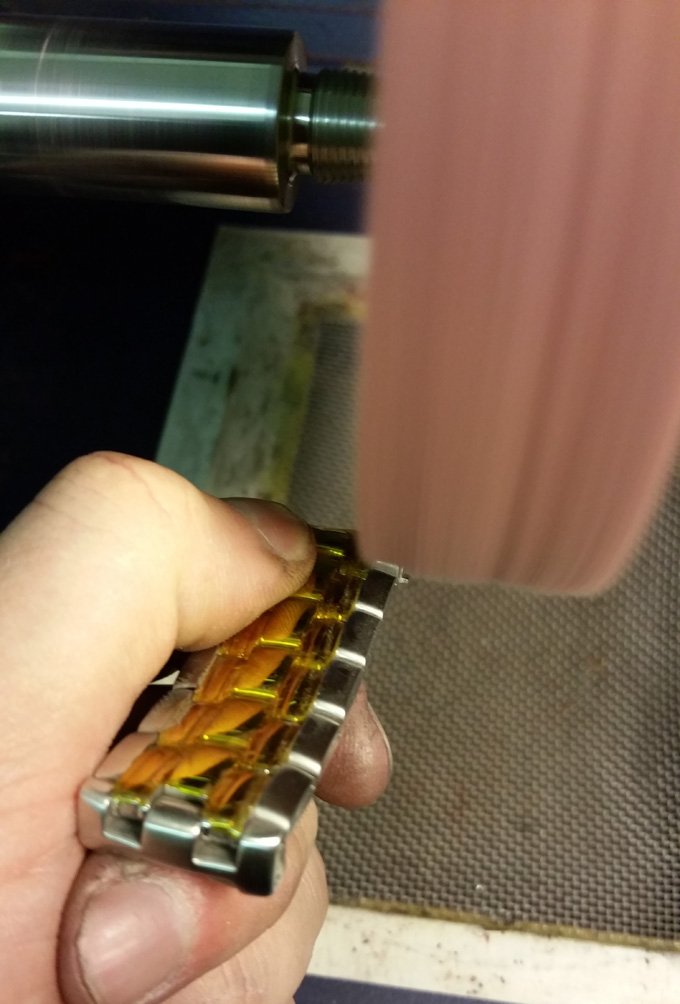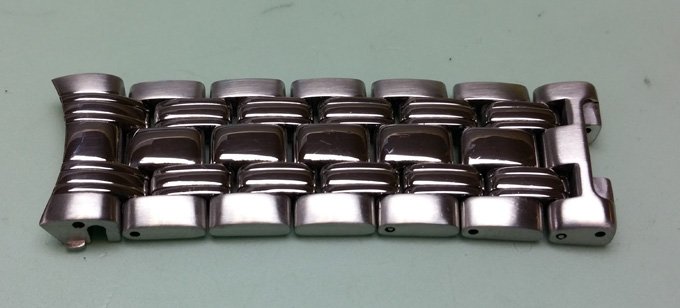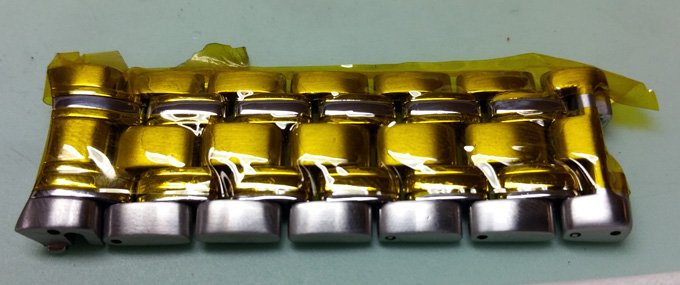 ---
HOW TO FINISH A WATCH CASE-BACK; CIRCULAR AND STRAIGHT GRAIN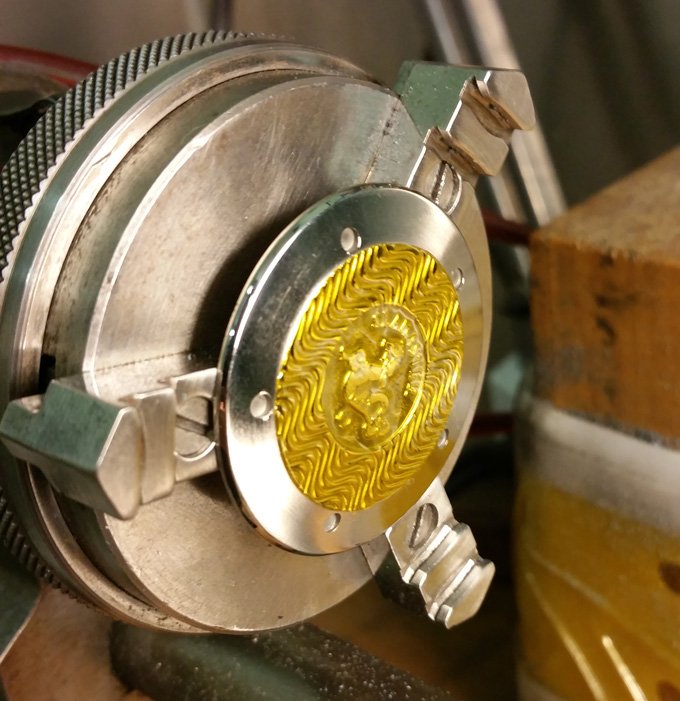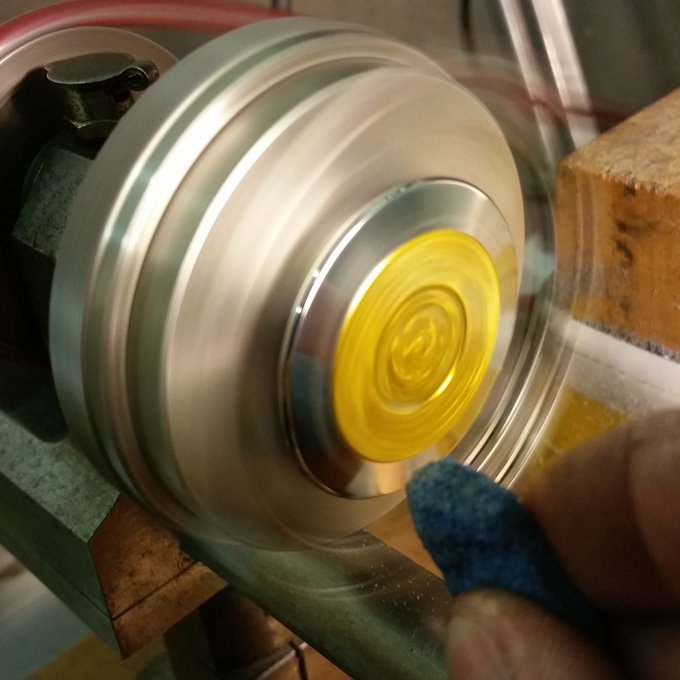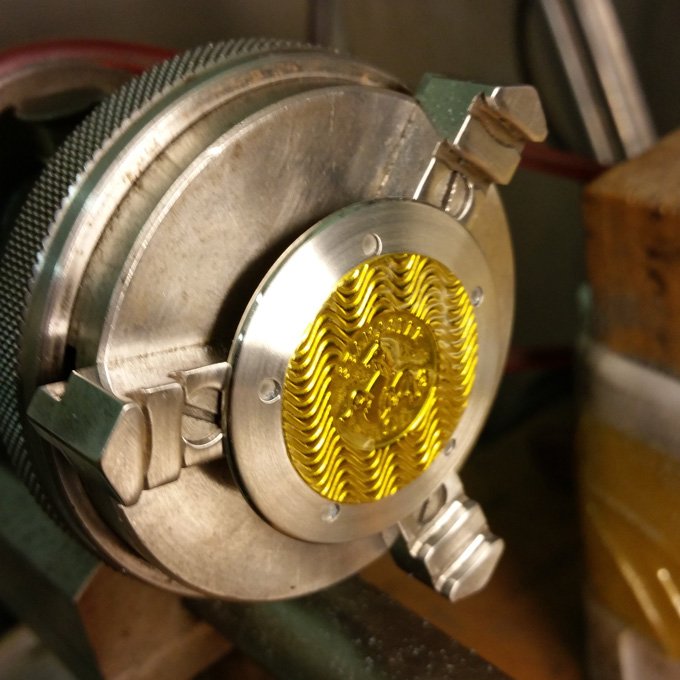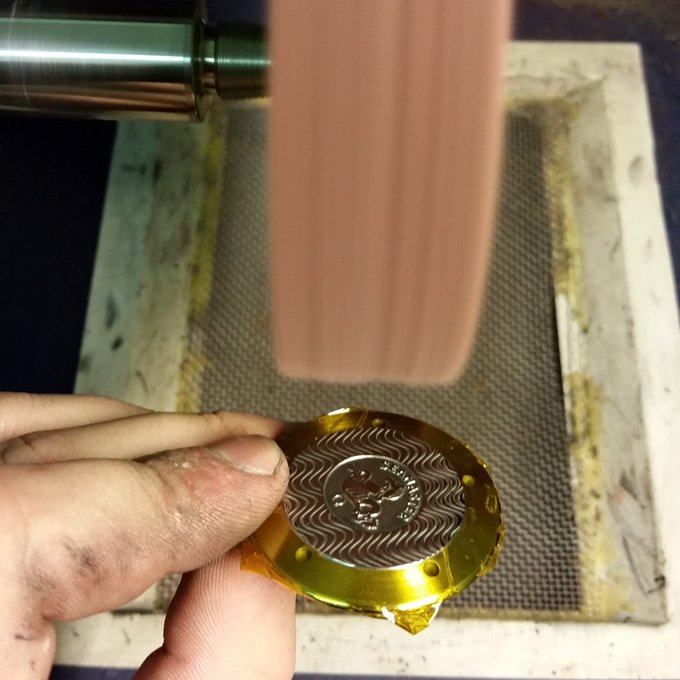 Additional Notes on Polishing Watch Bracelets and Cases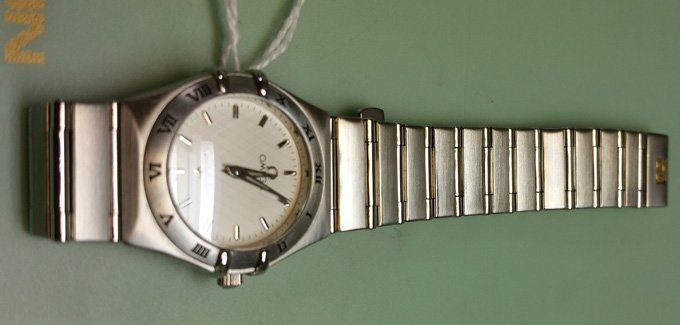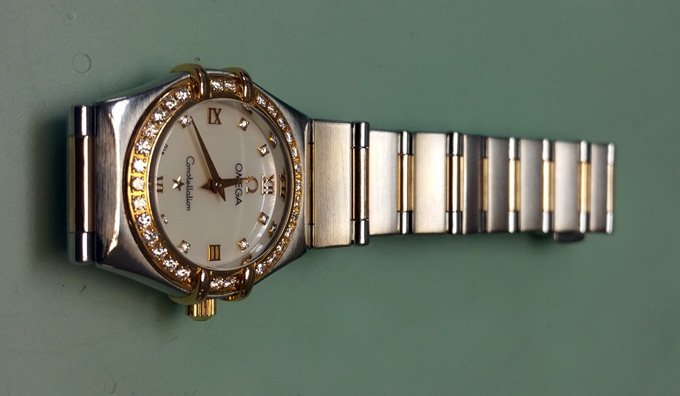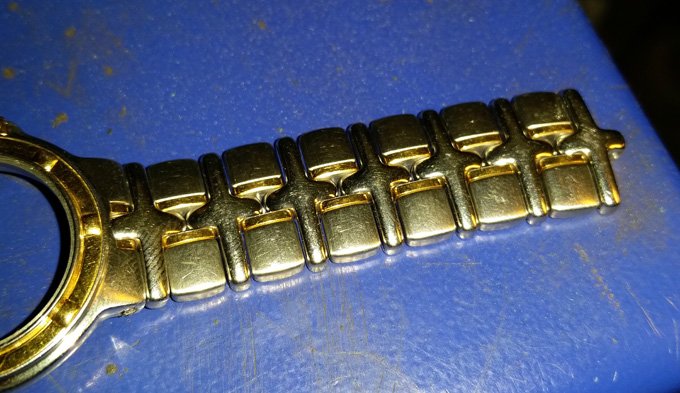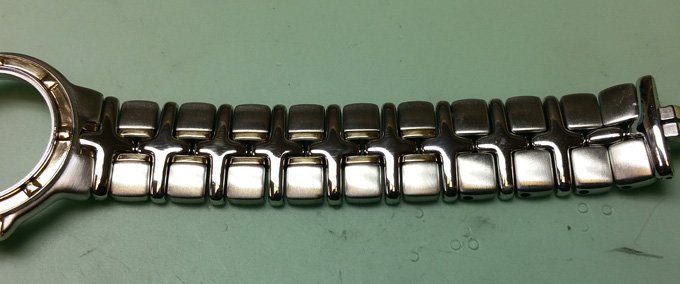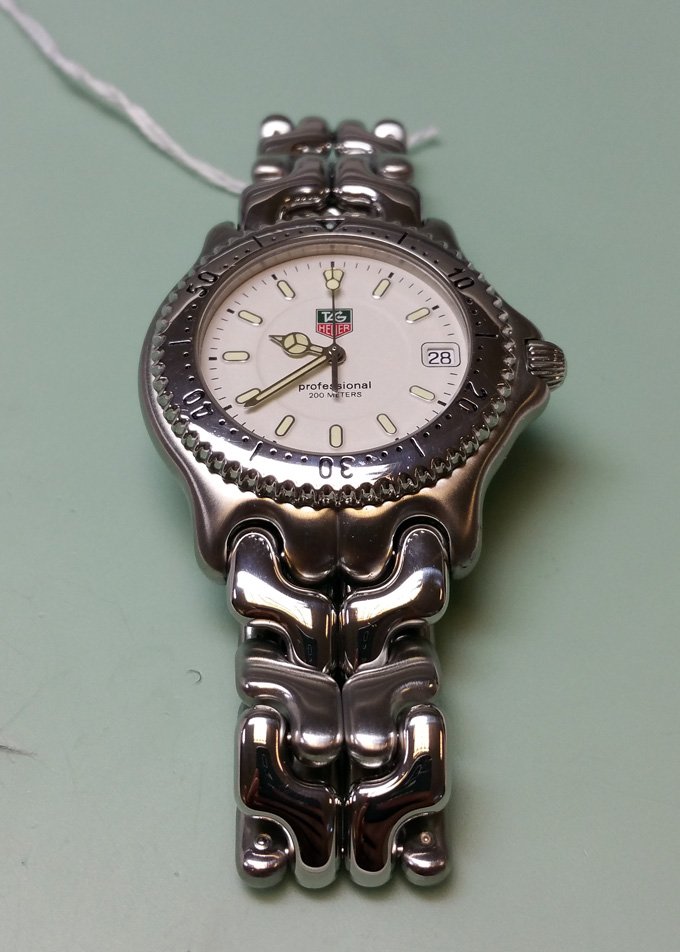 If you are interested in having me refurbish your watch for you, please get in touch via the contact form.
& Follow
Please Share