I spent a year at the School of Jewellery (SoJ) in their horology class (2011-2012), before moving to the British School of Watchmaking (BSoW) in September 2012.
When I first wanted to become a watchmaker, I knew that these were my two choices if I wanted to be a full-time student. At the time the SoJ taught the BHI course and the BSoW taught the WOSTEP course. I've talked about both of those courses here.
The SoJ is part of Birmingham City University (BCU), and also BIAD (Birmingham Institute for Art and Design). The school itself is in a really fabulous Victorian building built for the purpose over a hundred years ago. It has now been converted into an open plan layout, and it really is a great environment to be in.
There are 3 main groups at the school; horology, jewellery & silvermithing and gemology. Horology has around 30 students, Gemology slightly less and Jewellery has about 500 or so split into those taking the HND, the BA and the Design for Industry courses. So as an horologist there you are vastly outnumbered. The good news, for guys at least, is that 95% of the jewellery students are girls, and for the most part the horology class is 90% men.
There are also a number of night classes and other courses going on, which you have opportunity to join if you wish.
The school is open from 8am to 8pm.
School of Jewellery – Horology
Horology has been taught at the school for over 100 years. It is the only surviving class in the UK after the others in Manchester and London closed. The room itself holds all 3 year groups, and it makes for a really nice social atmosphere where different year groups intermingle and help each other out. They have a number of large lathes, medium sized Schaublin lathes and about 10 smaller Bergeon lathes. For the most part they are very well equipped, and the students have full access to all the equipment as and when they need it.
They also have a computer set-up in the class which students are free to use at any time, and usually after 5pm we'd turn some music on while we worked till 8pm.
The course offered now is a BA degree in Horology. It's the first degree in horology in the UK, and possibly the world. Previously students could choose to do the 3 year BHI course and/or the 2 year HND course. As far as I am aware, degree students can still do the BHI courses alongside their main studies if they wish.
The degree is based heavily on the previous HND and also the BHI's qualifications. As such there is a lot theory and historical knowledge along with some technical drawing. Students will be exposed to clocks as well as watches. If you need to know more about the degree course I'd suggest you take a look at the department's own notes: http://www.bcu.ac.uk/biad/jewellery/courses/horology-ba
One of the best, if not the best, part about the SoJ is the access to extra curicular tools and courses. You have a plating room on site, a 3D printer, laser cutter as well as a rose engine turning lathe. There's course run in CAD, hand engraving and enamelling – as well as silver and gold smithing. If you're self motivated you can get a considerable amount done while there.
The course currently has 1 full time tutor, and 1 part-time tutor. Both have a lot of experience, and I really miss the theory lessons we used to have a couple of times each week. It is also worth noting that a lasting impression I had from the teachers was that they genuinely cared about the welfare of their students.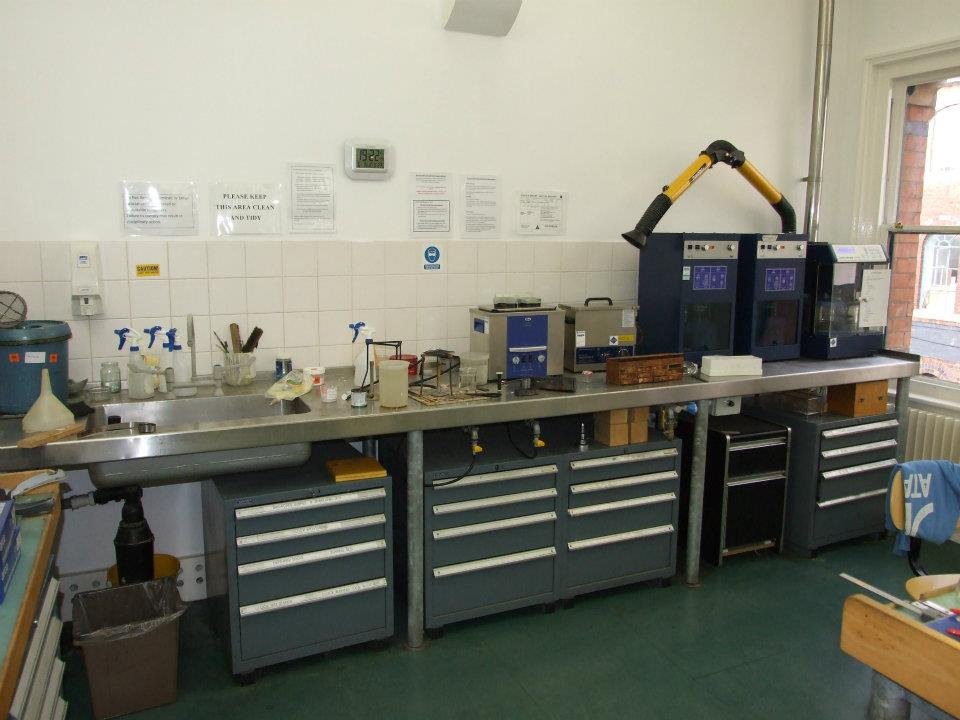 The Richemont Group help support the department, and have paid for some desks in what is now called the "Cartier room". They also offer paid work experience to any student. Most graduating students are able to quickly find work in a variety of fields.
On top of the course fees the students must also supply all of their own tools, as well as any watches they wish to work or practice on. This is around £1000-1500 a year.
As a demonstration of the value of tuition and facilities, the BHIs top awards often go to the SOJ's horology students.
Please Share
& Follow