The Dirty Dozen have been created as a modern homage to the original Watch Wrist Waterproof (W.W.W.) created by 12 companies for the British Army during WW2.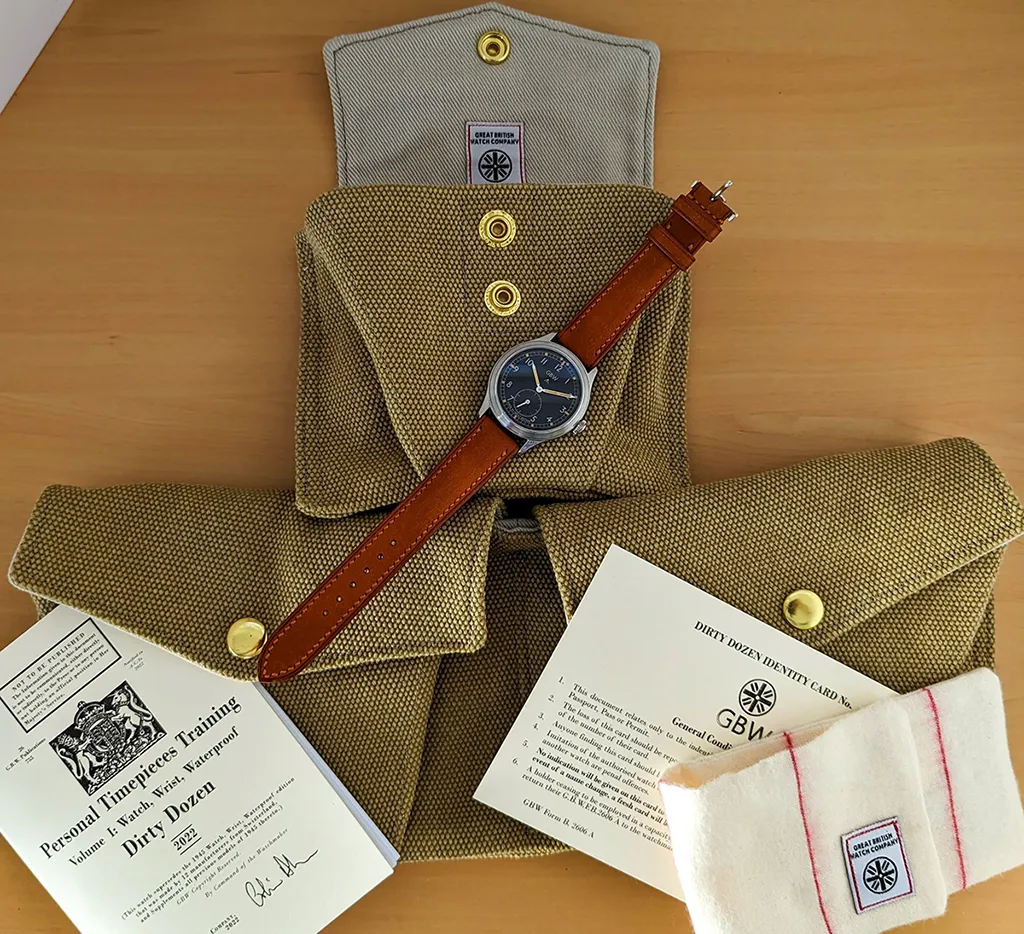 During WW2, when the British Army decided that a supply of standardised wristwatches was required, they turned to 12 Swiss-based companies, as the British watch industry was busily engaged producing precision instruments for the war effort.
This series of timepieces were the first watches specifically designed for British Army service, and they initially became known as "Wrist, Watch, Waterproof" or "W.W.W." as this was their official designation in the ordnance records. Previously, soldiers had been using their own personal timepieces – many of which were unsuitable for the rigours of military life.
The watches went into production in February and March 1945 and later that year they were delivered to the Army and began to be allocated to troops.
Watch collectors have named the selection of watches the Dirty Dozen, in reference to the 12 watch companies and the famous WW2 themed film of the same name. More recently, the Dirty Dozen watches have become particularly collectible, as their similar style makes them easily identified as a set, with collectors aiming to complete their collection with a watch from each of the 12 companies.
The watches from the original 12 manufacturers each share a number of similar characteristics:
– black dial with white Arabic numerals
– sub seconds dial at 6 o'clock
– a railroad track of minute markers
– luminous marks for each hour
– luminous hour and minute hands
– "Broad Arrow" on dial and caseback
1945 WATCH SPECIFICATIONS
i) 15 jewelled movement
ii) "shatterproof" Perspex glass
iii) "waterproof"
iv) radioactive radium or promethium luminous paint on dial and hands
v) brass balance wheel
vi) Elinvar balance spring
vii) 6 brands used stainless steel cases & 6 brands used chromium plated brass cases
viii) case sizes 35-38mm
2022 WATCH SPECIFICATIONS
i) 17 jewelled movement
ii) anti-reflective sapphire glass
iii) water resistant to 50m/5atm
iv) Super Luminova luminous paint on dial and hands
v) Glucydur balance wheel
vi) Nivarox balance spring
vii) 316L stainless steel case
viii) case size 37mm
I have only made 12 of these watches – one for each of the original manufacturers.
Dirty Dozen Project
The Dirty Dozen started off as a side project to The Few watch that I am creating. Soon after I'd begun working on the Spitfire watch, Covid19 arrived and the inevitable delays arose as the country went into lockdown, and so I took the opportunity to begin working on a second project. I had always liked the simplicity of the 1940s watches, and the original Dirty Dozen series was a watch that I aspired to own.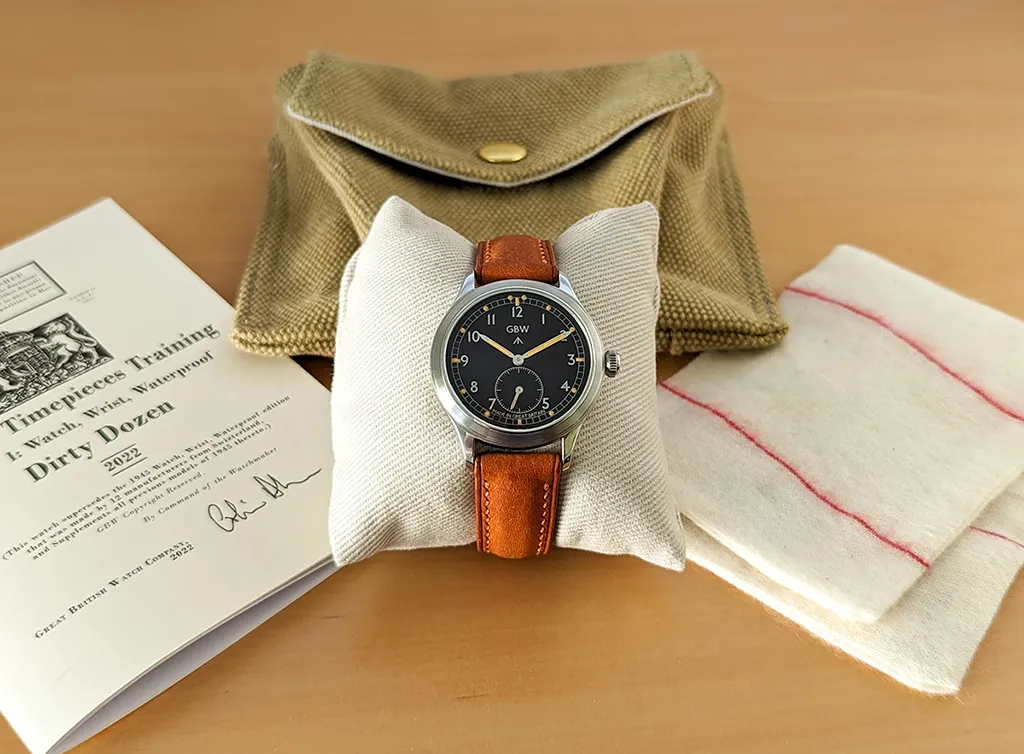 I wanted the watch to feel like a piece of kit a solider would have carried and so designed as many elements as I could to promote that idea. The "box" of the watch is based on a WW2 soldier's ammo pouch, with the top pouch being detachable and usable as a travel case. The cleaning cloth is made from an original WW2 era Lee-Enfield rifle (the main service rifle for British infantry) cleaning cloth, the booklet is based on the solider training manuals and the guarantee card is based on a WW2 army ID card.
This has been an incredibly rewarding series of watches to work on and I have really enjoyed creating a modern homage to an iconic watch that is almost 80 years old. Creating British-made watches was the original goal of the company when I founded it ten years ago, and the Dirty Dozen are the first completed set of watches that are for sale. It is my aim to have made not just a great watch with a timeless design, but also something really collectible and different – hopefully you agree.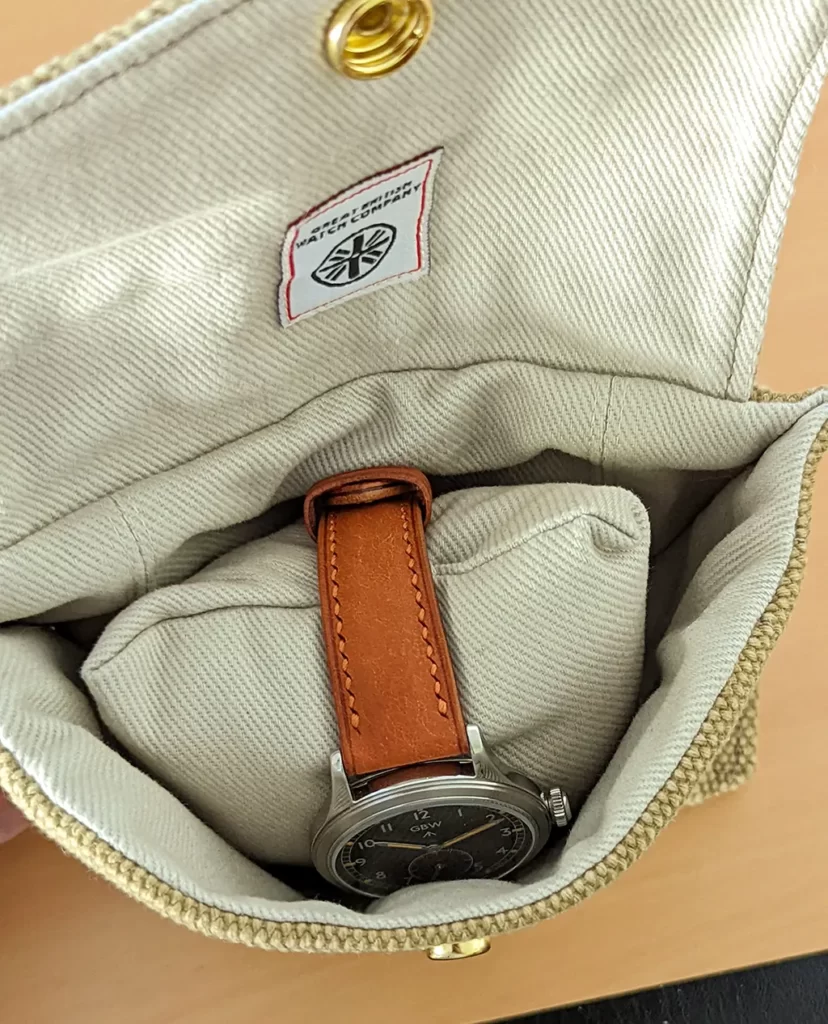 Watch Details
– Movement: ETA 7001, manual-wind with 40 hours of run time. Hand-finished bridges and heat blued screws
– Size: 37mm wide, 7.9mm thick
– Number made: 12
– Price: £3,500
– Guarantee period: 5 years (1st service included)
– 100% made in Great Britain (except the movement, which is Swiss)
– Individually numbered
The colour of both the strap and the luminous paint on the dial and hands can be customised.
_________________
All 12 of the Dirty Dozen watches were ordered within 26 hours of being introduced for the first time to my mailing list – an absolutely incredible response. If you are interested in keeping up to date with my work and being one of the first to know about any future releases, please subscribe to my newsletter: