I am very pleased to have been featured in the November/December edition of Timepiece magazine, which is the Newsletter of The British Watch and Clock Makers' Guild. Below is the text of the article.
A five-year apprenticeship training our future watchmakers
Encouraging young people to take on an apprenticeship, particularly in technical fields where hands-on experience is seen as being more valuable than pure academic know-how is on the increase – and Preston-based The Watch Lab are embraced this new new method of leaning.
Colin Andrews FBHI, Head of the Service Centre and Technical Support, says that while fields such as car mechanics and carpentry are well known, there are other traditional trades such as watchmaking that are also providing such opportunities.
"Before the Swiss, Britain was the world-leader in the watchmaking craft using their precision hand-made chronometers to accurately travel the seas and dominate maritime trade during the 19th century; even today most of the technology in a modern "Swiss" watch is British in origin," he said.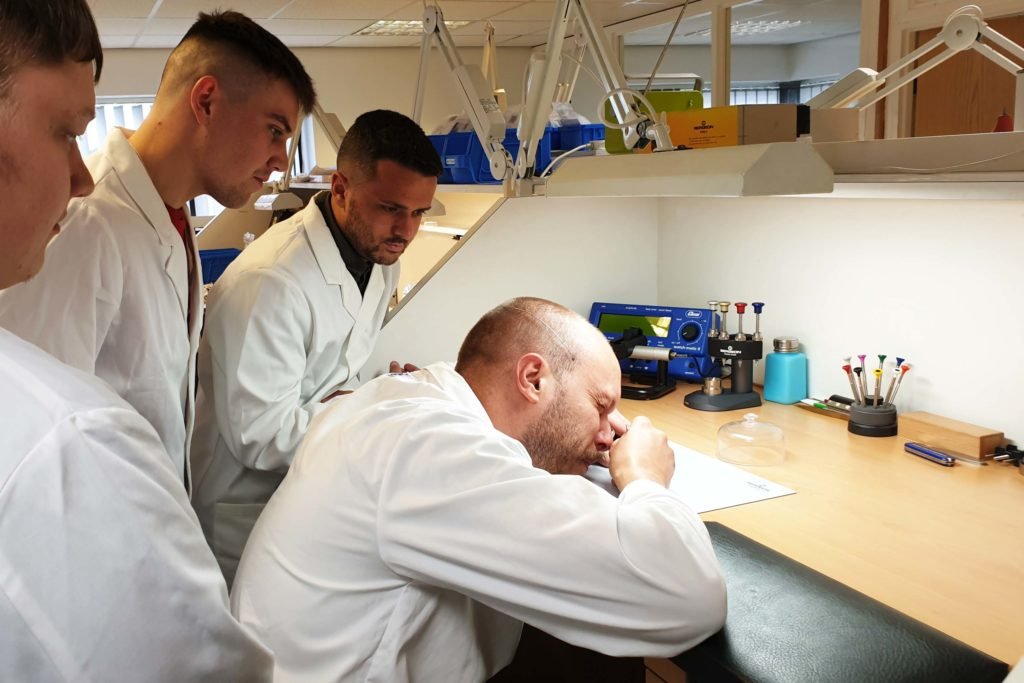 "In the past getting into such a specialised trade has been challenging. When I wanted to get into the watchmaking industry there were no apprenticeship opportunities available; most smaller businesses can't afford the potential risk and investment of time in taking on an apprentice, and most larger companies rely on recruiting overseas talent", explained Colin.
"the watch industry is unusual in that mechanical watches, which should be long obsolete, have made a massive comeback and the number of people training as watchmakers is not keeping pace with the current demand for their expertise."
Following on from his difficulty in finding an apprenticeship Colin says that i was always his intention to try to remedy this situation and provide a route into watchmaking for enthusiastic local people.
So He created a five-year training plan to build and develop the apprentice's skills, helping them grow from "no prior experience" to become commercially skilled watchmakers – able to repair all common, modern and vintage mechanical watches. And this has proven so successful that within a year The Watch Lab has a total of five staff going through the training programme.
Colin explained: "For the first year the apprentices take an NVQ Level 2 with the North Lancs Training Group where, along with their coursework, they will have to learn and demonstrate 40 individual watchmaking skills.
The NVQ Level 2 apprenticeship is actually called "Performing Manufacturing Operations", as there is not a specific one already set-up for watchmaking.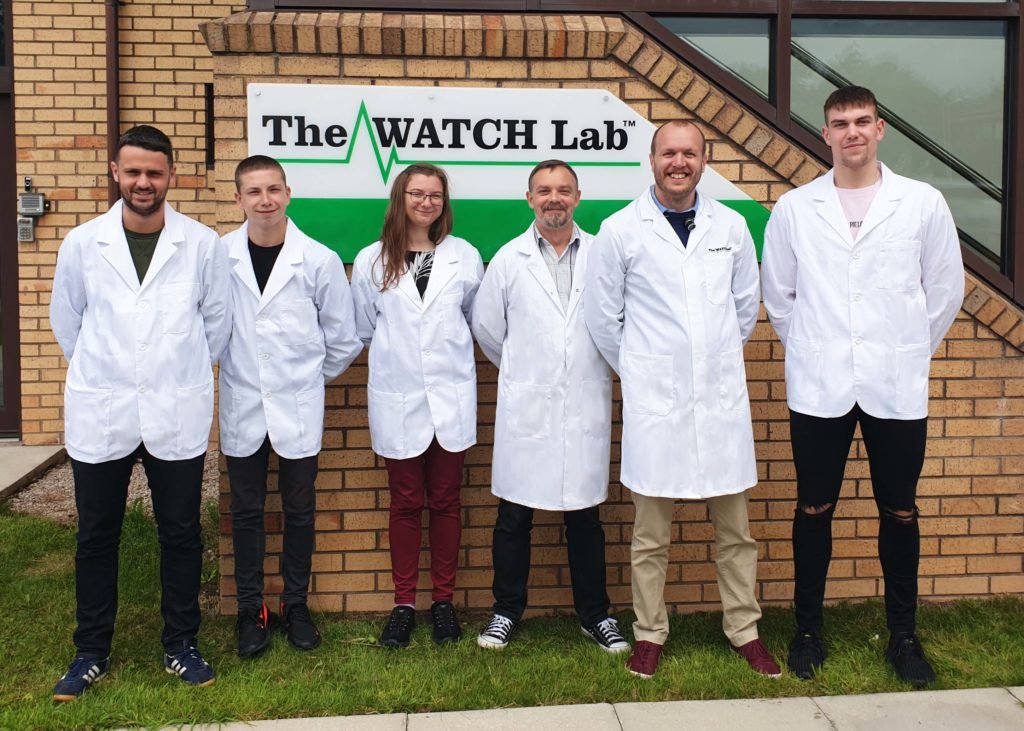 The course framework us tailored between ourselves and the training group so that we choose the most relevant modules, and then the rest us down to our own internal assessment of how the apprentice is progressing. Being able to demonstrate and explain how the workshop equipment works, correctly fault finding in a watch, polishing and refinishing a case and bracelet of a watch and fitting hands, glasses and crowns, are just some of the topics that the apprentice learns," he added.
After completing this first year, the apprentice then gets a promotion a pay rise and moves on to servicing quartz watches. During the third year they hake a start on mechanical watches, the fourth year focuses on automatic watches and the fifth and final year looks, in depth, at mechanical chronographs.
Added Colin: "Each of these year groups has a week's training at the BHI on one of their courses and then they take the relevant BHI servicing exam from the DLC. They do not need to take the theory or practical exams, although they will be supported if they wish to do so. When the BHI exam results are presented in August each year, the trainee gets a promotion and back dated pay-rise for successfully passing."
For the later years, students will take additional training and examinations with the BHI as well as brand accreditations, building themselves up from working on basic quartz watches to complex mechanical chronograph movements.
Colin says that the response they get to any advertisement for an apprenticeship position is always incredible – with at least 20 applications for every post – and it is really encouraging that this generation is keen to learn a traditional skill-set and build their future around it.
Training to become a successful watchmaker is not for everyone as you not only need an eye for detail and dexterous hands, but also need a calm, patient and fastidious temperament.
"It is incredibly satisfying that we can take a school leaver who isn't sure what they want to do with their future and, but the age of 21, have given them a set of recognised qualifications in a specialised skill, a promising career with opportunities worldwide and a well-paid job", he added.
& Follow
Please Share